Strong Results for Americana on April 12, 2018
Swann Galleries' auction of Printed & Manuscript Americana on April 12 was the department's highest-grossing sale in four years, continuing an upward trajectory as each offering of Americana and African Americana becomes more curated. Highlights of the sale included historic bibles and a broad selection of unique and manuscript material.
Religious texts constituted many of the highlights of the sale, including an unusually well-preserved first-edition Book of Mormon, which topped the auction at $77,500, going to a collector. Additional highlights included a first edition of the Aitken Bible, the first complete Bible printed in English in the United States, which brought $47,500 despite missing 6 text leaves, and a rare Pony Express Bible that was purchased by a collector for $20,000.
Swann is known for offering exceptional Mormon material. In addition to the top lot of the sale, highlights included an 1844 extra broadside issued by the Nauvoo Neighbor, containing the first official report of the murder of Mormon leaders Joseph and Hyrum Smith. It was purchased for $37,500 in its first auction appearance since 1966.
Many of the other highlights were unique or making their first appearances at auction in several decades.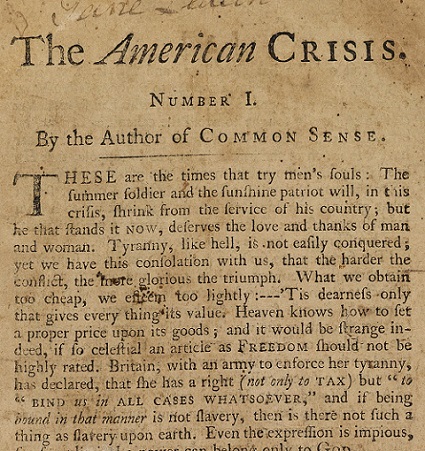 The first edition, first state of Thomas Paine's American Crisis brought $50,000 in its first auction appearance since 1955. An ornately framed cypress sprig cut by Lafayette from Washington's tomb—the only known example of this tender keepsake—brought $13,750. Cecil Stoughton's 16 albums of John F. Kennedy photographs brought $15,000, and his shot of Kennedy with Marilyn Monroe (the only known photograph of the two together) brought $10,625.
Institutions were active throughout the auction. Historic Deerfield acquired a volume of Iroquois religious tracts by the noted Mohawk missionary Eleazer Williams, while an account book of the noted physician George Huntington was purchased by his alma mater, Columbia University.
A volume of sixteenth-century records from the silver mine at Taxco, Mexico, brought $30,000, leading a rich selection of Latin Americana. Many items far exceeded their high estimates, most notably manuscript material in the Chinantec and Nahuatl languages. Printed highlights included a 1620 decree by the Mexican Inquisition prohibiting the use of peyote, which sold for $25,000, above a high estimate of $9,000.
The $1M auction continues Swann Galleries' upward trajectory in the field of Americana. Coming just two weeks after the house's successful sale of Printed & Manuscript African Americana, "the market shows no signs of slowing down," said Rick Stattler, Director of Americana at Swann. He added, "This was the strongest Americana auction we've had in four years. We saw strong results in every section of the sale, and participation from a remarkable breadth of buyers."
The next auction of Americana at Swann Galleries will be Revolutionary & Presidential Americana from the Collection of William Wheeler III on June 21, 2018. The house is currently accepting quality consignments for autumn auctions.
Vintage Posters Perform Well at March 1, 2018 Sale
Swann Galleries' auction of Vintage Posters Featuring Highlights from the Gail Chisholm Collection on March 1 offered premier examples of advertising and propaganda from around the world, and broke several auction records. Nicholas D. Lowry, President of Swann and Director of Vintage Posters, announced, "This was our best winter poster auction since 2013, and our third-best winter poster auction of all time."

A quarter of the auction was devoted to highlights from the collection of Gail Chisholm, renowned dealer and lifelong poster aficionado. Included in the collection was the largest selection of Erik Nitsche's designers for General Dynamics ever to come to auction. All of the 19 works found buyers, with two achieving new auction records: the French version of Hydrodynamics from the influential Atoms for Peace series 1955, sold for a record $5,500, while General Dynamics / Atoms for Peace, from the same series, was purchased by an institution for $5,250. According to Lowry, "The strength of the Gail Chisholm Collection, which achieved a staggering 87% sell-through rate, seemed to set the tone for the rest of the auction." In accordance with her wishes, proceeds from the sale of Chisholm's collection will benefit Planned Parenthood of New York City.

Swann's winter auctions of Vintage Posters have become the premier destination for scarce and valuable ski resort advertisements. The March 1 sale was no exception, offering a run of historic images, some of which were previously unknown to scholarship. Leading the selection was Alex Diggelmann's azure Gstaad / Berner Oberland, 1937, at $8,750. Additional Alpine highlights included The Golden Pass Route / Switzerland, 1934, by Edouard Elzingre, which sold for more than twice its high estimate for $7,813, and the English version of Erich Hermès's Winter in Switzerland, 1936 ($6,250). A previously unrecorded advertisement for Sun Valley, Idaho, circa 1936, showing the world's first chairlift just after the resort's opening, sold for $3,750. Lowry said, "We sold 84% of the ski posters we offered—a 'peak' that reflects the current buoyancy of the market."

Paragons of Art Nouveau performed well, with Alphonse Mucha's suite of four decorative panels of allegories of The Seasons, 1896, leading the sale at $45,000. Another highlight by the master was The Times of the Day / Réverie du Soir, 1899, which reached $10,000.

Records were achieved by unusual examples of Judaica from both World Wars. The rare Canadian poster The Jews the World Over Love Liberty / Have Fought For It & Will Fight For It, circa 1917, was purchased by an institution for $9,375. An Israeli advertisement for the Auxiliary Territorial Service by the Shamir Brothers, You Can Shorten the Road to Victory, Join the A.T.S., 1943, was also purchased by an institution for the same price. The next auction of Vintage Posters at Swann Galleries will be Graphic Design on May 3, 2018.
Results of PBA's December 14 Auction
PBA Galleries saw strong prices realized in their December 14th (2017) sale of Americana – Travel & Exploration – World History – Cartography. A number of lots sold for well over the presale high estimate and many lots saw spirited bidding, including an album of Albertypes from photographs taken by William Henry Jackson of Yellowstone, 14 annual editions of a Chinese telephone directory for San Francisco and Oakland, and books by the noted English scholar and explorer, Richard F. Burton.
The fascinating and rare album of 63 Albertypes of Yellowstone sold for $12,000. The photographs by William Henry Jackson were taken on the 1871 Hayden Geological Survey during which the Yellowstone region was explored. These were some of the first photographic views of the area and were instrumental in its establishment as the first U. S. national park. The scarcity of these albums was caused by a fire in the studio of the photographer and engraver Edward Bierstadt in early 1875 that destroyed most of the Albertypes he had printed, along with virtually all of Jackson's original glass negatives.
William Henry Jackson was in the early stages of his very long career as a photographer when he joined Ferdinand V. Hayden of the U.S. Geological Survey on an expedition to investigate the marvels of what is now the Yellowstone National Park. Jackson took hundreds of photographs of the mountains, canyons, the bubbling hot springs, and the steamy geysers, as well as the surrounding country, towns and forts on the way to the Yellowstone, creating glass plate negatives using the painstaking wet-collodion process – his studio borne by a mule. His photographs verified the amazing natural wonders to a fascinated nation, and led to the creation in early 1872 of the first national park out of "a tract of land fifty by sixty-five miles" at the Yellowstone. Hayden, leader of the expedition to the Yellowstone, was a promoter as well as a scientist, and saw Jackson's photographs as a good way to publicize the new park and help procure funding for future government surveys.
Fourteen consecutive annual editions of a Chinese Telephone Directory for San Francisco and Oakland sold for $2,040, well above the presale estimate. Covering the years 1931-1944, the directories are in Chinese throughout, except for the wrappers which are printed in English. Individual issues of this directory are scarce, and the consecutive fourteen-year run exceeded any holdings listed in OCLC.
Lots by the English scholar and explorer, Richard F. Burton, also did well in the sale. A first edition of Burton's account of his trip into the interior of Africa, The Lake Regions of Central Africa: A Picture of Exploration sold for $5,700 nearly twice the presale high estimate. Published in 1860, the two volumes contain 12 "chromoxylograph" color plates, a folding engraved map with slight hand-coloring and woodcuts throughout. This journey in search of the source of the Nile River with John Hanning Speke is as famous for the acrimonious relationship between the two explorers as for the geographical knowledge gained. The original publication of Burton's exploration of Central Africa in the Journal of the Royal Geographical Society also did well, selling for $2,400. Nearly the entire journal is devoted to Burton's narrative of the trip and includes a folding engraved map. Since Burton was yet to have his disagreements with John Hanning Speke this account is less acrimonious than the account published the following year.
PBA Galleries holds sales of fine, rare and collectible books every two weeks. For more information regarding upcoming sales, consignments, or auction results, please contact PBA Galleries at (415) 989-2665 or pba@pbagalleries.com.
Early Printed, Medical, Scientific, & Travel Books
Swann Auction Galleries' auction of Early Printed, Medical, Scientific & Travel Books on Tuesday, October 17 revealed serious interest from bibliophiles, exceeding the sale's high estimate and earning more than half a million dollars. In a focused offering with just more than 300 lots, 92% of works found buyers, with particularly active bidding for Bibles, incunabula, and early manuscript material.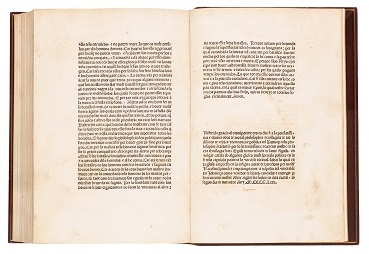 The top lot of the sale was Lo libre del regiment dels princeps, Barcelona, 1480, a Catalan-language guide for princes by Aegidius Romanus, which sold for $50,000, above a high estimate of $15,000, a record for the work. The book, translated from the original Latin by Arnau Stranyol, is especially noteworthy as Catalan-language incunabula appear so infrequently at auction, and this appears to be the fourth work ever published in that language. Another highlight was the first edition in the original Greek of Herodotus's Libri novem, an Aldine imprint published in 1502, which doubled its high estimate to sell for $30,000.
Each of the 16 works in a dedicated section of Incunabula sold. Beyond the top lot, highlights included the second edition of Nicolaus Panormitanus de Tudeschis's Lectura super V libris Decretalium, Basel, 1477, reaching $8,125, and Saint Hieronymus's Epistolae, Venice, 1488, bound in a leaf from a manuscript choir book ($7,000).

All but one of the 35 offered Bibles found buyers, led by the first edition of the Bishop's Bible, 1568, the most lavishly illustrated bible in English; the book replaced the Great Bible for church use, and in the sale nearly doubled its high estimate to sell to a collector for $5,980. Psalterium Romanum…, 1576, a sammelband in handsome contemporary binding executed for a nun, also contains a ritual for baptisms and exorcisms, 1581, reached $2,000. One of the few twentieth-century works in the sale was the 1913-14 Insel-Verlag limited-edition facsimile of the Gutenberg Bible in full, exuberant color on vellum, which sold for $7,000.

A popular section of early manuscript material was led by De claustro animae, a fourteenth-century manuscript in Latin on vellum by Hugo de Folieto, in which he uses the cloister as a metaphor for the soul ($28,750). A vellum leaf from a glossed Psalter in Latin, written in France in the twelfth century, nearly doubled its high estimate to reach $3,000. A beautifully illuminated French vellum bifolium from the calendar of a Book of Hours showing the months of January and June, executed in the later fifteenth century, sold for $5,250.

Medical highlights included Monstrorum historia, a 1642 collection of descriptions of monsters and medical mysteries, with more than 450 woodcut illustrations. The work was compiled by Ulisse Aldrovandi and published posthumously in Bologna ($7,000). Also of note was the first American edition of Nicholas Culpeper's The London Dispensatory, 1720, the first herbal, pharmacopoeia and medical book published in colonial America, which sold for $11,250.

Tobias Abeloff, Specialist of Early Printed Books at Swann Galleries, noted that "There was unexpected interest in unusual items, such as a scarce 1691 edition of Officium defunctorum, or the Latin Office of the Dead, converted by an eighteenth-century owner into a bizarre personal scrapbook," which reached $2,375, above an estimate of $100 to $200. All prices include buyer's premium The next auction of Early Printed, Medical, Scientific & Travel Books at Swann Galleries will be held in Spring 2018.

Pre-Fire Chicago Map by J.T. Palmatary Sells for Nearly $200,000 at Leslie Hindman Auctioneers' September 13 Auction
Palmatary's birds-eye view (Chicago: Braunhold & Sonne, 1857) sold for $198,600 against a pre-sale estimate of $20,000 - $30,000. The example offered by Leslie Hindman Auctioneers was the only known obtainable copy of the map in private hands. Having sold to a collector in Chicago, it remains in private hands.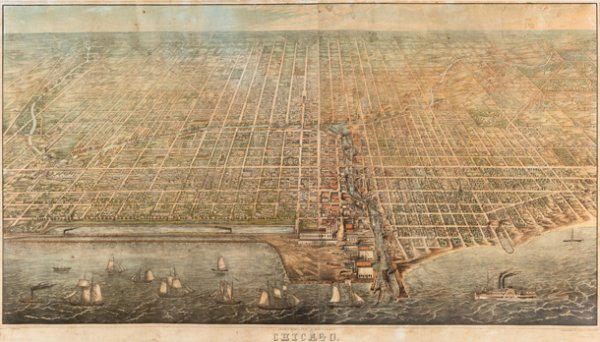 "As the map is one of only four known copies, we're thrilled that it sold to a Chicago area collector," said Gretchen Hause, Director of Fine Books and Manuscripts at Leslie Hindman Auctioneers.
Palmatary is known for his aerial views of cities. The birds-eye view of Chicago was completed just one year after the Illinois Central Railroad was built, which appears in the foreground of the map. Another notable feature is an area called "The Sands," visible in the lower right-hand corner. Notorious in its time, the area was known for having a high concentration of brothels, gambling dens, saloons and inexpensive motels. In 1871, during the Great Chicago Fire, the Sands became a point of refuge for displaced Chicagoans. Palmatary detailed notable places in the city, as depicted on the map via a lower margin legend. The view includes street names, homes, churches and points of industrial interest.
"The market remains strong for rare material in excellent condition. Both of these things contributed to the high price realized for Palmatary's Chicago map," said Hause. The Fine Books and Manuscripts department is now accepting consignments for its December auction. Visit lesliehindman.com for additional information.
Resurgence of Interest in Modern Literature
The Fine Literature and Fine Books auction at PBA Galleries on July 27th showed an upswing in prices of modern literature. Sales were strong with nearly 80% of lots sold and heating bidding on a number of the high spots. It appears from these results and strong sales at other auction houses, the 19th & 20th century literature market has recovered from the lows of a few years ago.
The first American edition of Moby-Dick; or, the Whale, though rebound in 20th century full brown levant morocco, sold for a healthy $9,600. Melville's book is considered to be one of the most important American novels of the 19th century and is based on his experiences at sea and the actual sinking of the whaling boat, Essex, by a sperm whale in 1820. This edition followed the English edition by a month and contains thirty-five passages and the "Epilogue" omitted in the London printing. Selling for its presale high estimate of $6,000 was a first edition of J. D Salinger's Catcher in the Rye in a first issue jacket in very good condition. The jacket has the original "$3.00" printed price present and the photo credit of Salinger's portrait by Lotte Jacobi on rear panel, and with Salinger's hair just touching the top edge of the rear panel. One of the best novels of the 20th century, it tells the classic story of the "cynical adolescent" Holden Caulfield.
The Works of Sir Arthur Conan Doyle in 24 volumes topped its presale estimate, selling for $5,400. Quite rare in the original paper dust jackets, this is one of 750 copies of the "Crowborough Edition," signed by Doyle on the limitation page. The set has all of Doyle's major works, including the Sherlock Holmes series, The Lost World, The White Company, Sir Nigel, The Refuges, Memories, etc.
Other highlights of the sale selling above the presale high estimates include Estelle Doheny's copy of The Red Badge of Courage. The first edition, first issue of Stephen Crane's most enduring work about the American Civil War and a true high spot of American literature sold for $5,400. A First Edition, first issue of The Two Towers, by J. R. R. Tolkien sold for $5,100. A near fine copy of the second title in the high fantasy series Lord of the Rings trilogy, it contains a folding map of the Middle Earth tipped to the rear endpaper. A first edition of F. Scott Fitzgerald's great masterpiece, The Great Gatsby, sold for $5,100, nearly twice its presale estimate. Considered to be the epitome of the Jazz Age in American literature, this copy is a first issue in the original dark green cloth housed in a custom cloth box.
PBA Galleries holds sales of fine, rare and collectible books every two weeks. For more information regarding upcoming sales, consignments, or auction results, please contact PBA Galleries at (415) 989-2665 or pba@pbagalleries.com.
Religious Material Performs Well at Freeman's June 16th Sale
On Friday June 16th 2017, Freeman's presented the Books & Manuscripts sale, whose catalogue included more than 350 lots spanning everything from sacred texts to autographed letters, and even photographs of the moon taken by the Surveyor probe. The sale achieved a 90% sell-through rate and totaled over $800,000.
The two top-selling lots of the day were both sacred texts. Lot 156, a Single leaf Hebrew Bible pericope, printed by Gutenberg in 1455, sold for $53,125. As the first major book produced using moveable type, the Gutenberg Bible remains one of the scarcest books conceivable.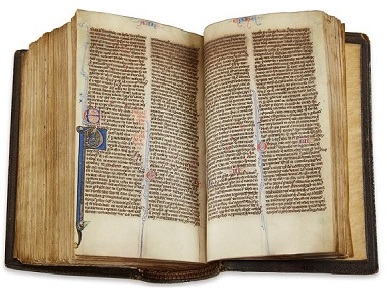 The next lot, a Portable Manuscript Latin Bible composed in 13th-century France (Lot 157) sold for $50,000. The historic significance of both of these texts extends beyond any religious affiliation.
There was a palpable excitement in the room when bidding for a lithograph of the interior of the Hebrew Synagogue of Charleston, South Carolina (Lot 212) skyrocketed, eventually selling for $25,000, one hundred times its initial estimate of $250-400. The building was destroyed by a fire in 1838 and was rebuilt several years later. One of the oldest Jewish congregations in the country, the synagogue is also the oldest in continuous use, since its founding in 1749. The lithograph was printed in Philadelphia, and shows the vaulted interior of the original structure, which is now known as the Congregation Kahal Kadosh Beth Elohim.
Another historical document from the south captured the attention of bidders that afternoon. A letter written by Confederate Army General Robert E. Lee (Lot 195) during the 1864 Second Battle of Deep Bottom, from his headquarters in Virginia, sold for $27,500 against an estimate of $8,000-12,000. Lee surrendered to Ulysses S. Grant just eight months after writing this letter to General Charles W. Field, in which he ordered him to ramp up troop presence against "the enemy."
Freeman's dedicated team of specialists in the Books & Manuscripts Department, led by Department Head Ben Truesdale, has established an international reputation for their many notable sales and thorough cataloguing. Freeman's next Books & Manuscripts auction is scheduled to take place on September 28, 2017. For more information contact Micah Dornfeld at (267) 414-1201
Strong Showing for Edward S. Curtis Photographs at Swann
On Thursday, April 20, Swann Galleries offered Images & Objects: Photographs & Photobooks, setting records for early and modern works alike. The sale performed well overall, with 71% of works offered finding buyers.
Swann Galleries consistently offers a varied selection of rare and iconic works by Edward S. Curtis, with nearly all of the offered lots selling above or within the estimate in this sale.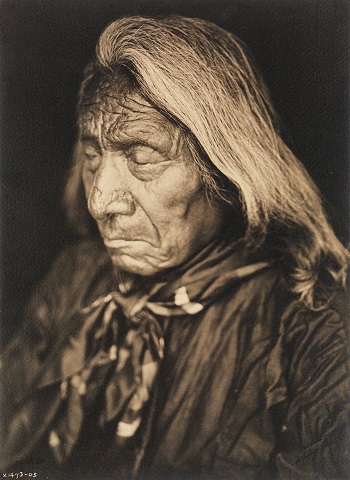 Highlights included a striking portrait of Red Cloud, Oglala, 1905, which sold for $32,500, a record for the work, above a high estimate of $9,000. The Scout, Apache, 1906, a dramatic orotone in the original frame depicting a Native American silhouetted on a horse, more than doubled its high estimate of $12,000 to sell for $27,500, a record for an orotone of the image; another orotone in its original frame, An Oasis in the Badlands, 1905, was purchased by a collector for $21,250, above a high estimate of $15,000.
Bastions of the art of photography performed well, with the highest price in the sale going to a group of 60 plates from Eadweard Muybridge's seminal Animal Locomotion, 1887, at $45,000. Ansel Adams's iconic Moonrise, Hernandez, New Mexico, 1941, printed circa 1976, went for $42,500. Five of the six works offered by New York-based vernacular photographer Weegee (née Arthur Fellig) found buyers, led by Coney Island, 1940, at $13,750.
The cover lot for the sale was an unusual version of Toni Frissell's breathtaking A Midsummer Night's Dream, 1957—the image was printed in reverse, with the notation "This is backwards" on the verso ($12,500).
Works from the last 50 years performed exceptionally well, with high prices going to Robert Frank's Sick of Goodby's, Mabou, 1978, and Zuma #9, 1978, by John Divola ($32,500 and $10,000, respectively). Both offered works by Peter Hujar far surpassed their high estimates: a trio of portraits of Robert Wilson, Ann Wilson and Sheryl Sutton, 1975, reached $27,500, above a high estimate of $12,000, while the striking 1985 Shack, Queens, more than doubled its high estimate of $6,000 to sell to a collector for $13,750. A suite of five photographs by Duane Michals, titled Narcissus, 1985, soared past its high estimate of $9,000 to sell after rapid bidding for $26,000, a record for the work.
Daile Kaplan, Director of Photographs & Photobooks at Swann Galleries, said of the sale, "Visual icons of the photography market, including Ansel Adams' Moonrise, Hernandez, New Mexico and Eadweard Muybridge's Animal Locomotion plates, and remarkable objects like Edward Curtis' extraordinary orotones sold competitively. The response to contemporary works by Peter Hujar, Adam Fuss and Duane Michals was exciting. The mid-range market for images and objects continues to attract new and mature buyers." For more information or consign quality materials, contact Daile Kaplan at dkaplan@swanngalleries.com.
Chagall, Hopper & Whistler Fetch High Prices
On Thursday, March 2, Swann Galleries' sale of 19th & 20th Century Prints & Drawings exceeded $3,000,000 and broke ten auction records. The house, which is celebrating it diamond anniversary this year, has enjoyed several record-breaking sales already in their spring 2017 season. The rare deluxe edition of Marc Chagall's 1948 portfolio Four Tales from the Arabian Nights,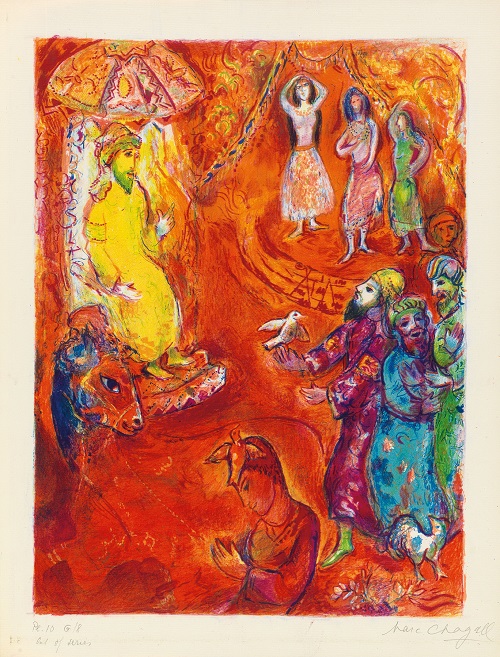 of which only 11 were printed, topped the sale. The set belonged to the publisher of Pantheon Books, Kurt Wolff. The vibrant color lithographs include the 13th plate denoting the deluxe edition; still in the original case, the set sold to a collector for $269,000.
Early twentieth-century American prints saw competitive bidding and high prices. Edward Hopper's rare 1921 etching Evening Wind sold for $149,000, nearly doubling its high estimate of $80,000. The American master was also represented in the sale by the 1921 etching Night Shadows, which went for $33,800. A premiere selection of prints by Hopper's mentor Martin Lewis was led by the extremely rare aquatint Which Way?, 1932, which was purchased for $42,500, a record for the work. Further highlights by Lewis included the 1929 drypoint Bay Windows and 1916's etching The Orator, Madison Square, each of which went for $27,500.
Another highlight of the sale was Männlicher Akt (Selbstbildnis I), 1912, Egon Schiele's first attempt at a printed self-portrait; the work brought $30,000. A 1914 drypoint by the artist, Kümmernis, was purchased for $15,000. Orologi Molli, a watercolor by Salvador Dalí featuring one of his famous melting clocks, surpassed its high estimate to sell for $112,500. Another original, a pen and ink drawing by Paul Klee of prancing bulls, titled Drama in der Kuhwelt, 1915, reached $25,000.
All four offered works by Mary Cassatt found buyers, including the rare circa-1902 drypoint Crocheting Lessons, which sold for $27,500. Another Cassatt, the color drypoint and soft-ground etching The Coiffure, circa 1891, broke its previous auction record to sell for $81,250. Etchings made by James A.M. Whistler during a 1879-80 trip to Venice performed well, including the luminous Upright Venice, at $70,000. Two further prints from the same period each broke their previous auction records: The Garden reached $70,000, while San Biagio sold for $62,500. The complete set of 14 lithographs in Henri Toulouse-Lautrec's Mélodies de Désiré Dihau, 1895, was sold for $30,000, a record for the work. The set was previously in the collection of Eric Carlson. The next sale of Prints & Drawings at Swann Galleries will be Old Master Through Modern Prints on May 2, 2017. For more information, contact Todd Weyman at tweyman@swanngalleries.com.


Strong Showing of Early Printed Books at Swann Galleries March 9
On Thursday, March 9, Swann Galleries offered a morning auction of Early Printed, Medical, Scientific & Travel Books, with examples from each section of the sale represented in the top 20 lots.
A leaf of the Gutenberg Bible, 1455, topped the sale. The remnant of the first book ever printed was hinged in a 1921 folio of A Noble Fragment; being, A Leaf of the Gutenberg Bible by A. Edward Newton. The leaf contains the text of Ecclesiasticus 16:14-18-29; it was purchased by a collector for $52,500. Tobias Abeloff, the Senior Specialist for Early Printed Books at Swann, noted "While individual leaves from the Gutenberg Bible come to auction with some regularity, they are still sought after, considering the unlikelihood of a complete or even fragmentary copy coming on the market."
Nearly all of the offered bibles sold, including the first edition of the Geneva Bible, the most popular bible in Elizabethan England, which was printed in 1560; it sold for $22,500. The first English-language edition of Hans Holbein's The Images of the Old Testament, 1549, with 94 woodcut illustrations by the artist, sold for $11,875.
Premier examples of English printing included a run of first editions by David Hume, led by Philosophical Essays Concerning Human Understanding, 1748, which brought $4,500, and the 1751 An Enquiry Concerning the Principles of Morals, which was purchased for $4,000, double its high estimate.
From the Medical and Scientific sections of the sale came an archive of 21 letters from Harvey Cushing to Agnes Willard Bartlett, the great-niece of Elisha Bartlett, which was purchased for $13,750. Expositio super Antidotario Mesue, 1488, by Christophorus Georgius de Honestis, the second edition of a late 14th-century commentary on the Antidotarium ascribed to the Baghdad court physician Mesuë the Younger, tripled its high estimate to sell for $15,000.
The sale featured a strong selection of travel books, led by Jan Nieuhoff et al's narratives of the Dutch East India Company's missions to China, titled An Embassy from the East-India Company of the United Provinces, to the Grand Tartar Cham, Emperour of China, 1671, which sold for $7,500.
Each of the eight offered manuscripts found buyers, with the highlight being a collection of 15 illustrated prayers by Charles V of Spain, titled Oraciones de los SS. Mysterios Gloriosos y Dolorosos de la Santissima Virgen Maria, 1676, which was purchased for $9,375.
The next sale of Early Printed Books at Swann Galleries will be held in Fall 2017. For more information, contact Tobias Abeloff at tabeloff@swanngalleries.com.
Largest Collection of Mucha at Auction Sells 93% at Swann's First 2017 Sale
On Thursday, January 26, Swann Galleries opened their 2017 season with a landmark sale of Alphonse Mucha & Masters of Art Nouveau: The Harry C. Meyerhoff Collection, the largest private collection of works by the artist and his circle ever to come to auction. Of the over 200 posters, sketches and ephemera, more than half of which were by Mucha; many of the pieces were unique, previously unrecorded, or had never before appeared at auction.
Swann President and Principal Auctioneer Nicholas D. Lowry, who is also the director of the Vintage Posters department, sold works to a packed room, with all bidding phones occupied. All but one of 136 offered works by Mucha found new homes, leading to a 93% sell-through rate for the entire sale. Mr. Lowry noted, "By all metrics the auction was a huge success. It was the highest sell-through rate of any major posters sale anywhere in the world since 1999."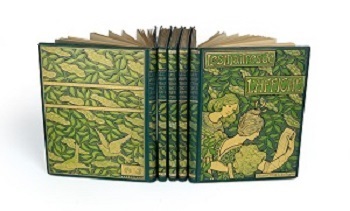 The top lot of the sale was the complete set of five volumes of Les Maîtres de l'Affiche, which was published periodically in Paris from 1896 to 1900. The art critic Roger Marx compiled what he believed to be the best Art Nouveau posters of the time from Europe and the U.S., with full-color lithographs of works Jules Chéret, Henri de Toulouse-Lautrec, Théophile Alexandre Steinlen, Mucha and others. This set, in its original binding designed by Paul Berthon, was purchased by an institution for $47,500.
The highest-value lot by Mucha was a rare set of silk panels depicting allegories of The Seasons, 1900. The designs mark a shift in the artist's style away from pastels and towards realism. The set garnered $35,000. Other examples of Mucha's work printed on fabric were two red panels, one on satin and one on velveteen. The satin example more than doubled its high estimate to sell for $7,500.
Many posters made their auction debut, including the ethereal Parfumerie Gellé Frères / Sylvanis Essence, 1899, in its scarce pre-text format ($27,500), and Krinogen, an unusual circular advertisement, circa 1928, which was purchased by a collector for $2,500.
One outstanding section of the sale was a run of original sketches for Documents Décoratifs and Figures Décoratifs, two books of guides by Mucha for people to decorate their homes in an Art Nouveau style. Each of the eight sketches by Mucha sold for several times their high estimates, with the highlight being a single circa 1902 pencil sketch that sold for $15,000, above a high estimate of $2,000.
All seven of the offered posters Mucha designed for the actress Sarah Bernhardt performed well, led by the dramatic life-size depiction of Medee / Sarah Bernhardt, 1898, which sold to a collector for $23,750. Bernhardt helped to launch the artist's career when she commissioned him to create a poster for her 1894 production of Gismonda, which was so successful she reused the design in her 1896 Sarah Bernhardt / American Tour ($6,000). Another Bernhardt highlight was the 1908 Leslie Carter, which fetched $18,750, a record for the work, above a high estimate of $7,500.
Several works in the sale broke previous auction records, including a La Vague, 1897, by Privat-Livemont. The previous record for the well-known work, which was heavily inspired by Japanese Ukiyo-e prints, was $5,760, set in 2012; the new record is $9,375.
"With 93% of lots sold, this proved to be our most successful poster sale by lot and our third best by value," said Mr. Lowry later that day. "We had the highest attendance we've ever had at a preview, a standing-room only special event, a full auction room and active bidding on almost all of the lots. As an auctioneer I can only say that every aspect of the auction was a pleasure, and that our diligent work was validated by such strong numbers is an extra pleasure." He added, "It was a real event, in the old-fashioned sense of an auction being an event."
Harry C. Meyerhoff was the owner of champion racehorse "Spectacular Bid" and a vintage poster collector based in Easton, Maryland. He began collecting fin de siècle posters in the 1970s with his wife and soon turned his focus to Alphonse Mucha. His main advisor for the collection was William J. Tomlinson, the highly regarded Baltimore art dealer and appraiser. Harry C. Meyerhoff died on February 11, 2016 at the age of 86.
The next auction of Vintage Posters at Swann Galleries will be held on March 16, 2017. For more information, or to consign materials to future sales, contact Nicholas D. Lowry at posters@swanngalleries.com or via phone (212) 254-4710, ext. 57.
20th Century Artists Dominate December Art Books Auction
Works by and about twentieth century artists dominated the scene at Swann Galleries' biannual sale of Art, Press & Illustrated Books on Thursday, December 1. Of the top 20 lots in the sale, only two were published before 1900. The sale also broke several auction records. The highlight of the sale was a rare limited edition of Das Werk von Gustav Klimt, 1918, the only monograph published in the artist's lifetime. The retrospective work, with richly printed collotype plates, ten in color with gold and silver highlights, sold to a collector for $60,000.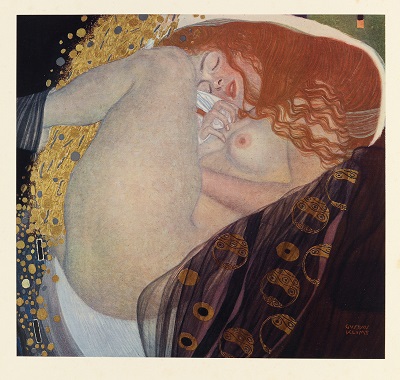 Another outstanding lot was a preparatory proof of László Moholy-Nagy's Composition which was published in the Belgian avant-garde magazine Het Overzicht, circa 1924. The print sold after competitive bidding for $17,500, a record for the work.
The most complete set ever to come to auction of the Mexican Stridentist journal Horizonte, 1926-27, made its debut. The periodical was edited by Leopoldo Méndez and Ramón Alva de la Canal, and contributors included Diego Rivera and Rufino Tamayo. Stridentism was a radical avant-garde art movement founded in Mexico City in 1921, formed out of the momentum of the Mexican Revolution; Horizonte was their outlet. The set sold for $22,500.
Auction records were set for a scarce first edition of Die Farbenklaviaturen von Le Corbusier, 1931, a wallpaper sample book designed by the artist to allow people to create harmonious color combinations in their homes ($6,000), as well as Kurt Schwitters's Die Silbergäule, Merz 8. Die Kathedrale, 1920, with seven lithographs, which sold to a collector for $4,420. The first limited edition of Five Poems, 2002, by Kara Walker and Toni Morrison broke its previous auction record to sell for $1,000.
Several works made their auction debuts, including Percy Bysshe Shelley's The Sensitive Plant, 1898, one of ten copies printed on vellum for the Guild of Women Binders, which sold to a collector for $5,250. The ornate Insel-Verlag edition of Friedrich Nietzsche's Also Sprach Zarathustra, 1908, designed and bound by Eleanore Ramsey, also went to a collector for $15,000.
Further highlights included a first edition of the satirical alphabet book skewering the 1913 Armory show, titled The Cubies' ABC, by Mary M. and Earl H. Lyall, which sold for $4,750. Douze Quatrains, 1930, by Pierre Bragenell, with 12 erotic pochoirs attributed to Gerda Wegener, was purchased by a collector for a record $5,500. Another record was set for a scholarly compilation by Hsiang Yüan-Pien titled Noted Porcelains of Successive Dynasties, 1931, which garnered $5,250.
Modern fairy mythology performed well in the sale, including Fairyland, 1926, an Australian picture book by Ida Rentoul Outhwaite, which sold for a record-breaking $4,250. Similarly, the first English trade edition of The Book of Fairy Poetry, 1920, sold for nearly four times the high estimate at $1,750. The book contains the first illustrated version of J.R.R. Tolkien's poem Goblin Feet. While not strictly fairy-related, Lewis Carroll's Alice in Wonderland, illustrated and signed by Salvador Dalí, brought $5,750. All prices include buyer's premium.
Revolutionary Americana & Mormon Material Dominate Swann's November 17th Sale
Swann Galleries' November 17 sale of Printed & Manuscript Americana brought more than $770,000, exceeding the high estimate for the sale. The top lot was an 1830 first edition of the Book of Mormon, which sold to a private collector for $67,500. This was more than the last 17 copies on the auction market, going back to a 2008 sale at Swann where it sold for $75,000. Swann holds the record for this rare true first edition, set in 2007 at $180,000. What makes this edition unusual is that it is the only one to list Joseph Smith as the "author and proprietor" rather than the translator. Mormon-related documents continue to perform well, with the diary of a Methodist preacher named Benajah Williams, in which he describes a meeting that may have inspired Smith's first vision, selling for $13,750. Additional Mormon highlights included a published response by Joseph Smith to a letter from J.A. Bennett, 1844, which sold for $6,750, and a letter by Wilford Woodruff describing the Mormon settlement and the development of Utah, 1877, which reached $25,000.
Sale prices for Revolutionary War material were even stronger than usual, with several lots going many times above their high estimates. Notably, a newspaper printing of Thomas Paine's 1777 American Crisis brought $37,500, while notes taken during the 1782 Continental Congress by member Arthur Middleton, which include the first reference to Vermont's statehood, sold for $55,000.
Works from the Timothy Treacy collection of historic Californiana performed well in the sale, selling over 90% of the 35 lots offered and setting numerous auction records. An inscribed first edition of Clarence King's Mountaineering in the Sierra Nevada, 1872, brought $8,750, a record for the author. Another record was $2,750 for a first edition of Charles F. McGlashan's History of the Donner Party, 1879. A portfolio of photographs of the Sierra Nevada Mountain Range from the 1930s by Clinton C. Clarke sold for $9,375, over six times the high estimate, while a first edition of Thomas J. Farnham's Travels in the Californias, and Scenes of the Pacific Ocean, 1844, doubled its estimate to sell for $8,125.
Another record was set by a rare 1796 illustrated Bible, published in Philadelphia by Berriman & Co., which sold for $1,500. Institutions did very well at the sale. Most notably, the Society of the Cincinnati won a 1776 orderly book detailing the defenses of New York; the South Caroliniana Library at the University of South Carolina bid successfully on an important 1782 Henry Laurens letter; the Massachusetts Historical Society won an anti-abolition broadside by George Francis Train, 1862; the New-York Historical Society won three lots including a group of Holland Tunnel blueprints; and the Connecticut River Museum acquired a diary by river pilot John Ingraham.
Book Department Director and Americana Specialist Rick Stattler said, "Prices remained strong, particularly for Revolutionary War material, reflecting a busy week—we had a large crowd waiting at our door when the preview opened. Private collectors were very active in the sale, picking up four of the top ten lots."
The next sale of Printed & Manuscript Americana at Swann Galleries will be held in April, 2017. For more information, or to consign materials, contact specialist Rick Stattler at rstattler@swanngalleries.com or via phone (212) 254-4710, ext. 27.
Signed First Editions Dominate Swann's Auction of 19th & 20th Century Literature on November 10. Sale Breaks Several Auction Records.
Every book by father of science fiction H.G. Wells sold, led by The Invisible Man, 1897. This book, which sold for $7,500, was one of several from a collection of fine first edition association copies inscribed by the author to his friend W.E. Henley, to whom Wells dedicated The Time Machine. Other highlights from the collection included The Island of Doctor Moreau, 1896, and The First Men in the Moon, 1901, which sold for $7,000 and $5,750, respectively. Another first edition of The Invisible Man sold to an institution for $5,000.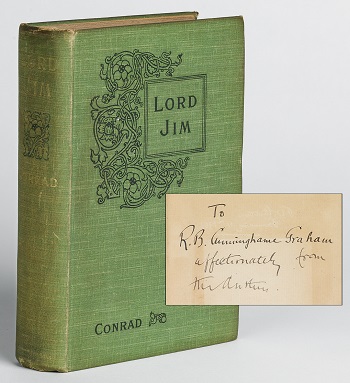 The top lot of the sale was the first issue of the first edition of Frank L. Baum's classic, The Wonderful Wizard of Oz, 1900, which brought $23,750, more than tripling its high estimate. Other children's literature also performed well, including a signed limited first edition of Le Petit Prince, 1943, by Antoine de Saint-Exupéry, which tied its previous auction record at $9,750. Additionally, signed presentation copies of Alice in Wonderland and Through the Looking-Glass by Lewis Carroll sold for $15,000, while a complete set of first editions of the Christopher Robin books by A.A. Milne brought $7,500.
In its auction debut a first edition, signed in the year of publication, of The Prophet by Kahlil Gibran sold for $5,750. The book has been continuously in print since 1923 and has sold over 100 million copies, but is rarely seen at auction. This was also the first time at auction for a limited issue of a set of ten leather-bound volumes of The Complete Works of Walt Whitman, 1902, which sold for $5,000.
Other auction records that were set included a signed first edition of Hugo Gernsback's Ralph 124C 41+. A Romance of the Year 2660, 1925, which sold to a collector for $8,125. The first American edition of War and Peace by Leo Tolstoy, 1886, sold for a record-breaking price of $8,125, while Fyodor Dostoyevsky's first English edition of The Brother Karamazov, 1912, sold to a collector for $11,250.
Additional highlights included an inscribed first edition of Joseph Conrad's Lord Jim, 1900, which brought $16,250, and the true first edition of Anne Frank's diary, printed in Amsterdam in the original Dutch in 1947, sold after heated bidding to a collector for $12,500. The first American edition of The Adventures of Tom Sawyer, 1876, by Mark Twain also did well, selling for $13,750.
First Edition Isaac Newton Brings $87k at Swann Galleries Oct 18 Auction

Swann Auction Galleries held a successful sale of Early Printed, Medical, Scientific & Travel Books on Tuesday, October 18, with special offerings of early scientific and mathematical material. The top lot of the sale was a first edition, first issue of Sir Isaac Newton's seminal Opticks, 1704, a treatise on light and color. This excellent copy of the groundbreaking work sold well above its estimate at $87,500. Another highlight was Euclid's Elementa geometriae, 1482, the first major mathematical work to appear in print. The printing process used in the first edition, which includes extensive geometrical designs, influenced the design of subsequent editions and similar works into the sixteenth century; it sold for $62,500.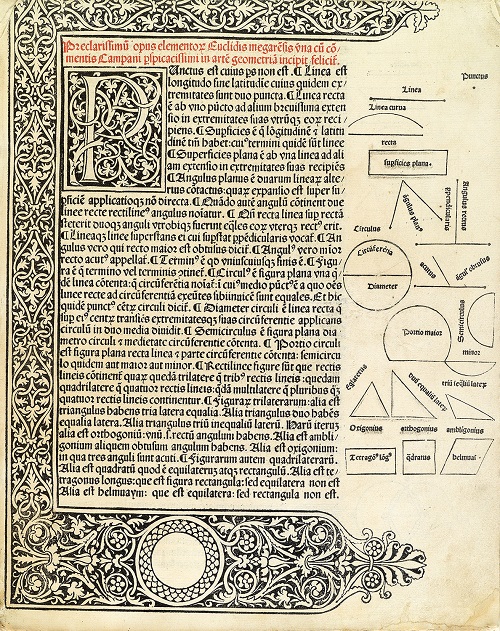 Each section of the sale performed well, especially the collection of mountaineering literature from the estate of Timothy Treacy, an adventurer from California. Works in the collection helped to stimulate interest in mountaineering, as well as later classics on the subject. Specialist Tobias Abeloff said, "It was an interesting collection to work on, with many uncommon items. 129 of the 131 Treacy lots sold, so the sell-through rate mirrored the sale as a whole at 98%. The top Treacy lot was Edmund Thomas Coleman's Scenes from the Snow-Fields, 1859." That work sold to a collector for $16,250. Other highlights from the Treacy Collection included a first edition of Rambles and Scrambles: Across the Country from Thonon to Trent, 1865, by Douglas Freshfield ($12,350) and a series of published letters between William Windham and Pierre Martel titled An Account of the Glacieres or Ice Alps in Savoy, 1744 ($10,000).
William Shakespeare's A Winters Tale, extracted from the First Folio, sold after steady bidding for $25,000, well above its high estimate. A fourteenth-century vellum manuscript Psalter from England, written in gothic hand and including contemporary calendars, litany and miscellaneous texts, sold to a collector for $8,450. Early English bibles also attracted much attention: The Byble, 1551 ($15,600); The holie Bible, 1572 ($7,280); and The Holy Bible, 1617 ($13,000), all sold to collectors for more than twice their estimates.
Specialist Tobias Abeloff commented, "Healthy phone and internet bidding sent prices for many items well beyond their estimates." This was Swann Galleries' top-earning dedicated Early Printed books sale since the house's October 2012 offering of Aldine Imprints & Early Printed Books from the Library of Kenneth Rapoport, underscoring the continued strength of premium book collections at auction.

Swann Galleries Poster Sale Sets Several Auction Records
Swann's August 3 sale of Vintage Posters brought more than $450,000, finishing the 2015-2016 season for the house with three record lots. With almost 600 offerings, the day was a panoply of genres, ostensibly 8 or 9 sales in one, with large sections of Russian and World War I and II propaganda, Art Nouveau works, travel and resort advertisements, circus bills, minstrel and black images in marketing, work incentive posters and more.



Swann previously set the record in 2013 for Alois Hans Schram's Jubilæums – Ausstellung / Wein, 1898, and raised it on Wednesday by more than one thousand dollars. An American work incentive poster, Learn What You Need! / Use What You Learn!, designer unknown, went to a private collector for $4,000, a record for the work. A travel poster by Francois Gos, Zermott / Matterhorn, 1904, surpassed its auction record with $5,750.
The top sections of the sale were war posters, with Russian lots showing the strongest interest. A group of 35 Russian propaganda posters topped the sale, bringing $18,750 after fierce bidding. Works by Art Nouveau painter and decorative artist Alphonse Mucha also drew attention, with a high sell-through rate on those posters.
The auction was well-attended both physically and online, and collectors competed to take home trophies. Swann Galleries' President Nicholas D. Lowry said of the sale, "From the podium it was encouraging to see active bidding on all the different varieties of offerings, suggesting quite strongly that the market is robust and deep." The next sale of Vintage Posters at Swann Galleries is scheduled for October 27, 2016. For more information, or to consign materials, contact specialist Nicholas D. Lowry at posters@swanngalleries.com or via phone (212) 254-4710, ext. 57.
Ansel Adams' Moonrise Fetches $221,000
Swann Galleries' February 25 auction Art & Storytelling: Photographs & Photobooks brought over $1,640,000, lead by a famous image by Ansel Adams. Daile Kaplan, Swann Vice President and Director of Photographs & Photobooks, said, "We are thrilled with the success of this sale. Iconic photographs sold competitively, auction records were set for 19th and 20th-century images, and clients new to the photography marketplace were successful bidders. Auction prices for vernacular imagery continue to be noteworthy as numerous lots sold well above estimates, demonstrating a continued rise in interest in this corner of the market."
The Adams, a 1950s mural-sized silver print of his dramatic Moonrise, Hernandez, New Mexico, 1948, sold for $221,000 (including buyer's premium). Beyond the amazing story of Adams capturing this iconic image, this particular print boasted a weighty provenance, having been owned by both Edwin Land, co-founder of the Polaroid Corporation, and Edward Mills Purcell, winner of the Nobel Prize for Physics in 1952.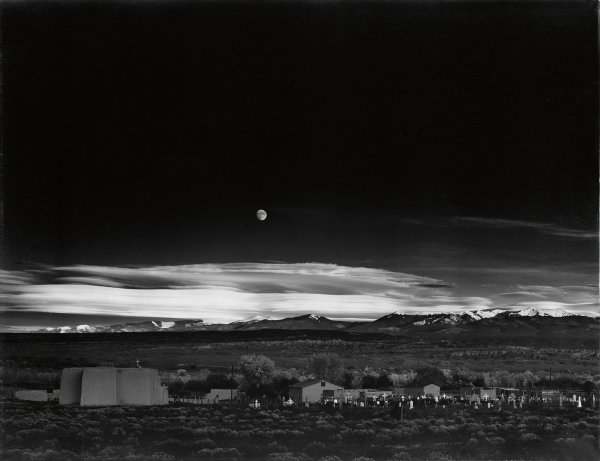 Photographs of famous and influential figures were among the top lots, with Garry Winogrand's portfolio 15 Big Shots, with each of the silver prints signed, selling for $45,000. Richard Avedon's oversized silver print Suzy Parker and Robin Tattersall, evening dress by Grés, Moulin Rouge, 1957, showing the photographer's muse with accomplished sailor and surgeon Robin Tattersall, sold for $35,000.
Works from documentary photographs performed well in the sale, with Dorothea Lange's silver print The General Strike, Policeman, 1934, selling for $81,250, while Margaret Bourke-White's 1937 silver print At the time of the flood, Louisville, Kentucky realized $32,500. Lewis W. Hine's image of a child laborer, Sadie Pfeifer, a Cotton Mill Spinner, Lancaster, South Carolina, silver print, 1908, brought $20,000.
The photobooks section also saw particular success, with a signed and inscribed first edition of Man Ray's Photographs 1920-1934 Paris realizing $18,750. A first edition set of Edward Emerson Barnard's 1927 A Photographic Atlas of Selected Regions of the Milky Way, Parts I & II, brought $17,500, eclipsing its high-estimate after competitive bidding. Two albums set auction records: William Saunders' Sketches of Chinese Life and Character, 1871-72, which included 50-hand colored albumen prints sold for $65,000, the top price ever realized for the artist at auction. The other record was set by an album of 25 gold-chloride toned microphotographs of snowflakes by Wilson A. Bentley, which brought $52,000.
Among vernacular lots, a group of more than 100 photographs of residents of a trailer park in the 1950s, all taken by the same unnamed photographer, sold for $8,750, outpacing its high estimate after fierce bidding. An album of gas and pipeline photographs entitled Northern Natural Gas Company Pipelines, sold for $4,000, while another album of 106 photographs documenting filling stations throughout Kentucky sold for $8,750.
For more information, please contact Daile Kaplan: dkaplan@swanngalleries.com, or via phone at 212-254-4710, ex.21.
Historic Ocean Liner Posters Perform Well
Swann Galleries' November 19 auction of select Rare & Important Travel Posters brought over $482,000 and set auction records for several artists and posters. Nicholas D. Lowry, Swann Galleries' President and Director of Vintage Posters, said, "This robust sale, with an enviable 80% sell-through rate, saw many records broken–setting new highs for both posters and, in four cases, for the artists themselves. Every auction has its surprises, and in this auction the Internet drove bidding especially high in the Italian posters being offered..."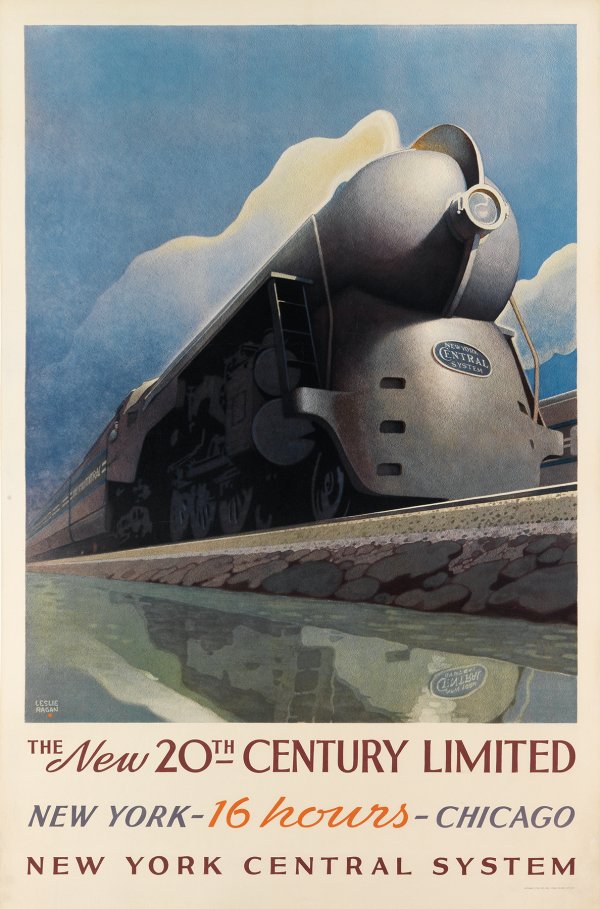 A new auction record was set for artist Leslie Ragan, whose The New 20th Century Limited, 1939 sold for $22,500 and was the top lot of the sale. Ragan's Rockefeller Center New York / New York Central Lines, circa 1936, also sold well, bringing $8,750. Other artist records included Percival Albert (Percy) Trompf, with Australia, 1929, realizing $15,000; and Cecil King, whose LMS / The Merseyside Express, circa 1937, sold for $5,750.
Two rare posters advertising the Titanic and her sister ship the Olympic saw a great deal of interest and competitive bidding. James Scrimgeour Mann's White Star Line / R.M.S. Olympic & Titanic, circa 1911, which shows the Olympic powerfully coursing through the water, brought $10,625 and set an auction record for the poster. A poster depicting both the sister ships passing at sea, Montague Birrell Black's [White Star Line / Olympic & Titanic], circa 1910, sold for $8,450. A poster of another doomed ocean liner also sold among the top lots; Odin Rosenvinge's Cunard Line / Liverpool • New York • Boston / [Lusitania], circa 1907, which shows the ship in a nocturnal seascape brought $15,600 and set a record for the artist at auction.
Other ocean liner images were popular in the sale, with Adolphe Mouron Cassandre's United States Line, 1928, realizing $17,500; while his dramatic Normandie, 1935, sold for $6,240. Posters touting travel by air were also favorites, with David Klein's bright New York / Fly TWA, 1956, bringing $7,250; while another TWA poster, Paul Colin's TWA / Trans World Airlines, circa 1950, showing a TWA Constellation circumnavigating a half-shadowed globe, sold for $5,500. Jean Carlu's striking typography caught attention as his CAF / Voyages Aériens, circa 1926, fetched $5,000.
Posters showcasing fabulous destinations performed well, with Percy Trompf's Australia, 1929, a scene of a bustling Bondi Beach, selling for $15,000 and setting a record for the artist at auction. Additional bright beach images included Maurice Lauro's rare Trouville, 1927, depicting a day on the boardwalk, which sold for $10,625; and Roger Broders's Sur la Cote D'Azur, circa 1931, which brought $8,125. Viero Migliorati's Santa • Margherita • Ligure, 1934, with a stylish group lounging in the heart of the Italian Riviera, realized $8,450 and set an auction record for the poster.
Complete results are available online via www.swanngalleries.com. For more information, please contact Nicholas D. Lowry at 212-254-4710, extension 57, or via email at posters@swanngalleries.com.
Shays' Rebellion Eyewitness Account, First Edition of Book of Mormon Led April 14th Sale.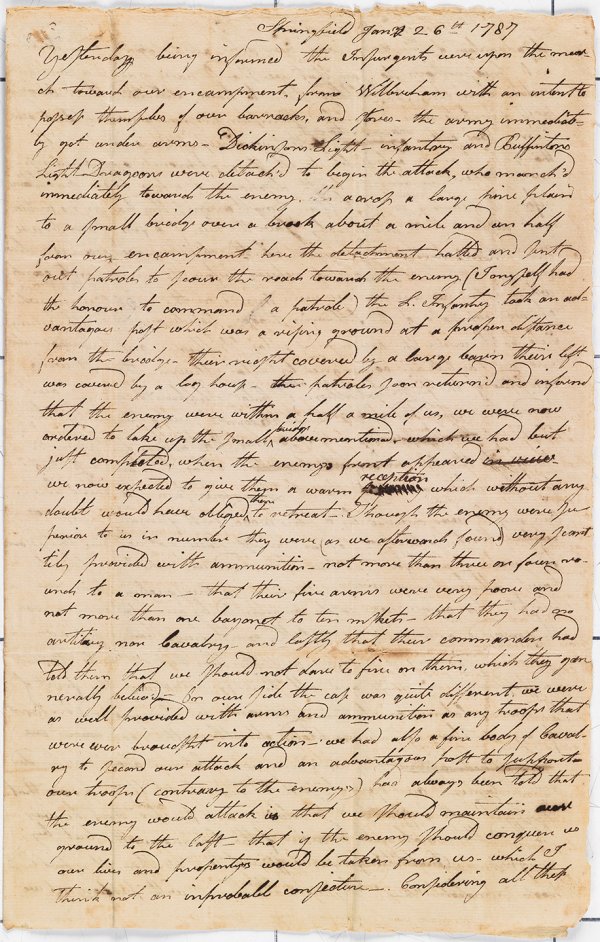 Swann Galleries' April 14 auction of Printed & Manuscript Americana saw vigorous and unusually broad-based bidding, with the top 12 lots going to 12 different bidders, many of them new to Swann. Rick Stattler, Swann's Americana Specialist, said, "Manuscripts, archives, ephemera and broadsides continue to grow in importance; only two of the top 12 lots were printed books."
The two strongest portions of the sale were the American Revolution and Mormon sections, both consisting mostly of rare and unusual items collected by Milton Slater in the 1960s and 1970s. These included the top lot, a first edition of the Book of Mormon, which brought $55,000. Other Slater highlights included a dramatic autograph letter signed about Shays' Rebellion, Officer Epaphras Hoyt's eyewitness account of the principal battle, January 1787, $35,000; and an 1818 Benjamin Owen Tyler printing of the Declaration of Independence on silk, $25,000.

Key lots that soared above their pre-sale estimates included a Revolution-era volume of the Connecticut Journal newspaper featuring the Tea Party and Bunker Hill, $35,000; and the cover lot, an attractive oil painting of Theodore Roosevelt seated at his desk, by Adriaan M. de Groot, 1925, $15,000.
Latin Americana was, as usual, well represented, with an archive from Hiram Bingham's important archaeological expedition to Macchu Pichu in Peru bringing $13,750.
Collectors ruled the day, winning 12 of the top 20 lots. The biggest institutional purchase was by the University of Texas's Dolph Briscoe Center for American History, which picked up an important Mexican naval blockade log from the Texan Revolution for $27,500. They also acquired an 1860s guest register from Houston's Capitol Hotel for $813.
An 1860 first edition, first issue of the Lincoln-Douglas debates brought $5,500, a record for an unsigned copy; while an 1849 Steele's Western Guide Book brought a record $3,250 — it was the 17th and final edition, but only the second to include California. An inscribed copy of Coretta Scott King's My Life with Martin Luther King brought $812.50, tying a previous auction record. All prices include buyer's premium.
For more information, and to propose consignments to upcoming Americana auctions, please contact Rick Stattler by telephone at (212) 254-4710, extension 27, or email: rstattler@swanngalleries.com.
Ski Images, Art Nouveau Designs & Other Vintage Posters Perform Well at February 12th Sale
Interest in ski posters was intense at Swann Galleries' February 12 auction of Vintage Posters, resulting in several new auction records. Also sought after were Art Nouveau images by Alphonse Mucha and other artists of that era.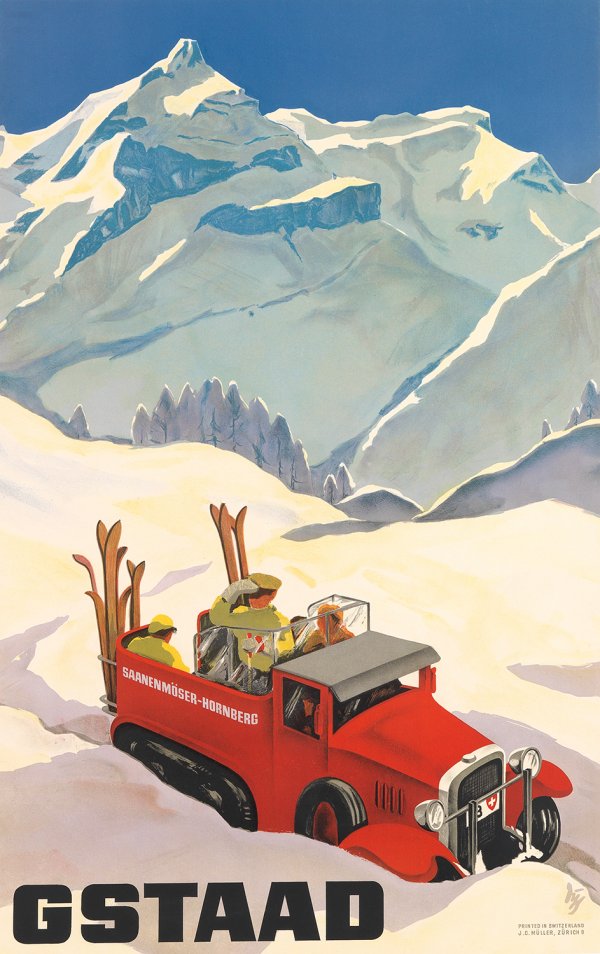 The top three lots in the auction brought $30,000 each: Alex Diggelmann's Gstaad, 1934, which had been estimated at $2,000 to $3,000; Alphonse Mucha's The Flowers, a set of four decorative panels, 1898 and Leopoldo Metlicovitz's Mostra del Ciclo e Dell'Automobile / Milano, a poster for Milan's 1907 automobile and cycle show. The Diggelmann and Metlicovitz were auction records.
Also selling for record-setting prices were Martin Peikert's Champéry / Chemin de fer Aigle, 1955, $11,875 and Orsi's VIIIe Olympiade / Jeux Olympiques / Paris, 1924, $10,625; while Jack Rivolta's Up Where Winter Calls to Play / Olympic Bobsled Run / Lake Placid, circa 1938 and Ted Hunter's Dartmouth Winter Carnival, 1937 set new benchmarks for any work by the artists at $7,500 and $6,000 respectively.
Additional ski highlights were Erich Hermes's L'Hiver en Suisse, 1930 and Franz Lenhart's Dolomiti / Cortina, circa 1930, $8,125 each, as well as Herbert Bayer's Ski in Aspen Colorado, 1946, $7,250.
Art Nouveau beauties of note included the iconic Cycles Gladiator by an unknown artist, circa 1895, $17,500; a pair of volumes of the publication The Maîtres de l'Affiche [Masters of the Poster], 1896 and 1897, $10,000; Private Livemont's luminous Absinthe Robette, 1896, $7,280 and Jean Misceslas Peské, poster for the magazine L'Estampe et L&rsqu
To read more, please visit our Archive Page.