Swann Galleries' Thursday, April 26 auction of Fine Illustrated Books & Graphics will offer books, magazines, portfolios, editions and unique works, with material that changed the trajectory of design and influenced book arts in the last two centuries. Luminous works by Gustav Klimt lead the auction with the limited edition tours-de-force Das Werk, 1918, and Eine Nachlese, 1931.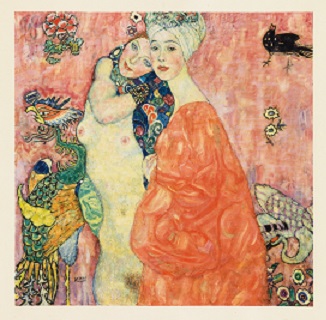 With text by Hermann Bahr and Peter Altenberg, Das Werk is the only monograph published during Klimt's lifetime. The present copy, numbered 103 of 300, retains 49 of the original 50 plates, including the ten printed in color and heightened in gold and silver, and carries an estimate of $25,000 to $35,000. The lavish portfolio Eine Nachlese boasts 30 plates, 15 in color, compiled by Max Eisler. The tome features several important works by Klimt, including some which were destroyed by wartime fires. Rarely seen complete, it is here estimated at $15,000 to $25,000.

Works by fine artists of the twentieth century will include volumes by Jean Arp, Jean-Michel Basquiat, Salvador Dalí and David Hockney. One of 55 copies on vellum of Pablo Picasso's idiosyncratic bestiary, Eaux-Fortes originales pour des textes de Buffon, 1942, with text by Georges Louis Marie Leclerc Buffon, is estimated at $20,000 to $30,000. Fernand Léger's Cirque, 1950, is an unusual interpretation of the artist's book: rather than use reproductions of existing works, he conceived and developed the theme and prints especially for the project ($20,000 to $30,000).
Fine presses are well represented in the auction, with a section devoted to works produced by the Ashendene, Cheloniidae, Doves and Kelmscott Press houses, as well as the Limited Editions Club. Both the second issue of the first book published by the Kelmscott Press, The Story of the Glittering Pain, 1894, with elaborate decorations by William Morris, and The Defence of Guenevere, 1892, published and decorated by the same and bound in vellum, carry an estimate of $2,500 to $3,500. An original woodblock carving by Eric Gill for the Golden Cockerel Press edition of The Canterbury Tales of a "naked man dead" dangling from a vine, 1929, was featured no fewer than ten times throughout ůmore