Philadelphia has moved cautiously to "Green" status, and the Philadelphia Rare Books & Manuscripts Co./SessaBks now joyfully invites your visits by individual appointment. The firm's 19th-century building is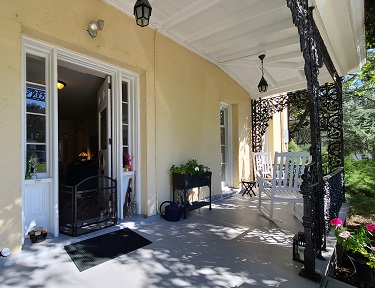 large and airy and was built when cross-ventilation could not be an afterthought. The bookrooms are spacious. And the front porch, with its almost iconic rocking chairs now set on blue x's six feet apart, is perfect for outdoor socializing between browsing sessions.

Arrangements to visit should be made at least 24 hours in advance, as plans for this first stage of reopening will see the shop receiving only a person or two or one household at a time. Masks will be de rigueur indoors, and the ritual handwashing that once was a precaution taken to protect the books and manuscripts will now be part of the program for other reasons - to protect the health of other people. The proprietors, Cynthy Buffington and David Szewczyk promise that the books will be here and they're eager to see you exactly as always. The Summer Garage Sale will be extended into early autumn, weather permitting, to all regular late-summer visitors. For more information, please call (215) 744-6734 or e-mail rarebks@prbm.com.