Vintage Posters are on bright and bold display in a summer sale on Wednesday, August 7 at Swann Galleries. The auction brings to market the house's most extensive selection of vintage automobile advertisements to date, rare examples of sports posters, along with premier examples of wartime and political propaganda, as well as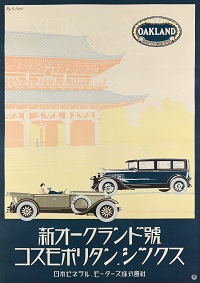 promotional images for a variety of performing arts.

Automobile advertisements range from the late-nineteenth to the mid-twentieth century, led by Ludwig Hohlwein's luxurious 1914 design for Mercedes at $15,000 to $20,000. The earliest automobile poster comes from circa 1894, and uses a photograph by L. Geisler for Clément Cycles ($800-1,200). Also of note is A. Hori's circa-1925 art deco poster advertising General Motors' Oakland division to a Japanese audience ($3,000-4,000) and a 1970 ad for Porsche featuring Steve McQueen ($800-1,200). Racing posters for 24 Heures Du Mans, Carrera Panamericana Mexico and the Grand Prix de France round out the selection.
Four extraordinary images by Sergio Trujillo Magnenat stand out among of a selection of sports posters. The images, which celebrate the first Bolivarian Games in 1938, held as part of the 400th anniversary of the founding of Bogotá, Colombia, make their market debut at $2,000 to $3,000 apiece. Additional highlights include Ilmari Sysimetsã's Spanish-language poster for the 1940 Summer Olympics in Helsinki, Finland, which were cancelled due to the outbreak of World War II ($800-1,2000); also available is Sysimestã's design in English for the 1952 Summer Olympics ($700-1,000).

Political and war propaganda posters include images from World War I, World War II, the Great Depression, as well as the German Peace Council. WWI and WWII works of note include Howard Chandler Christy's 1920 U.S. Marines recruitment poster, which features a soldier flying on a bald eagle ($7,000-10,000); unmistakable 1917 posters by James Montgomery Flagg, Wake Up America Day and I Want You for U.S. Army (both $4,000-6,000); as well as V. Clayton Kenny's Civil Air Patrol / Eyes of the Home Skies, 1943, for the U.S. Office of Civil Defense ($400-600). American and British campaign posters …more