Most everyone remembers their favorite book as a child, a book with few words but vivid illustrations that transported the reader to new places and adventures. Collectors often start their collection with one of these books from their childhood but few have the opportunity to collect the original piece of art used to illustrate their favorite book. On Thursday, November 1st, PBA Galleries will offer a collection of original illustration art for children's books.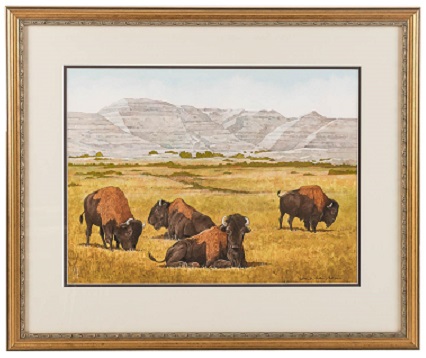 Many West Coast contemporary illustrators of children's books are represented in the collection with significant offerings by Jamichael Henterly (Arthur on Horseback), Elisa Kleven (The Puddle Pail), Melissa Mathis (Turtle and the Moon), Stacey Schuett (Outside the Window) and Daniel San Souci (Antelope, Bison, Cougar: A National Park Wildlife Alphabet Book). Many of the illustrations will be offered with a copy of the book where the art appears.
A highlight of the sale is an original watercolor by Daniel San Souci for Steven P. Medley's Antelope, Bison, Cougar: A National Park Wildlife Alphabet Book. The illustration for B is for Bison, show a group of four American buffalo relaxing on the grasslands of Theodore Roosevelt National Park. Included is a signed and numbered limited edition of the book. The colophon is an additional page featuring the Florida panther in the Everglades National Park. Also, included is a numbered lithograph of a drawing used on the G is for Grizzly page and a separate color print of the Florida panther.
Steven P. Medley has written about Yosemite National Park many times, but Antelope, Bison, Cougar: A National Park Wildlife Alphabet Book was his first children's book. Dan San Souci has illustrated around fifty books for young readers and was the author for several of them. Both author and illustrator are ůmore