On Thursday, December 13th, PBA Galleries will host an Americana - Travel & Exploration - Hunting & Sporting - World History - Cartography Sale. Up for auction will be over 550 lots of rare, interesting and uncommon material on the history, exploration, cartography, and culture of the four corners of the globe, ranging from travels into the Ottoman Empire and the Levant to cattle drives in the American west. Included are books, manuscripts, photographs, ephemeral material, graphic items, and a wide range of maps. There is a special section of hunting and sporting books, many from the Derrydale Press.
Highlighted in this sale are some San Francisco related works such as, original photos of sailing ships, from the R.J. Waters Company of San Francisco,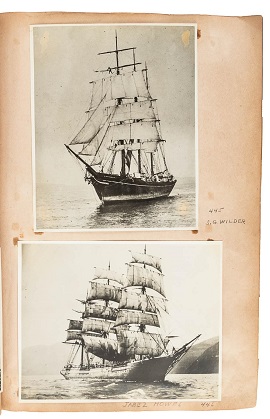 with something over 430 gelatin silver prints ($3,000-$5,000). A scarce pictoral Merry-makers Map of San Francisco, 1940, showing all the night clubs, saloons, fine restaurants, and other entertainment venues of "Baghdad by the Bay," the streets crowded by men in suits and hates, and women in nothing at all ($1,200-$1,800).
PBA will be offering a variety of world history material including a 4th century sculpture of the head of Alexander the Great, from the ancient Gandhara civilization in present-day Pakistan and Afghanistan ($10,000-$15,000). Nicolas de Nicolay's popular illustrated work on the Ottoman Empire, Les navigations peregrinations et boyages, faicts en la Turquie, 1576, with depictions of the various peoples under Turkish suzerainty ($5,000-$8,000). The History of Japan, by Engelbert Kaempfer, 2 volumes, 1728, with 45 engraved maps and plates, most folding or double page, a key work in shaping western perceptions of Japan ($5,000-$8,000).
The Americana section includes rare Civil War broadside advertising a concert organized by "The Ladies of Charleston" (South Carolina) to raise money for the construction of a gunboat for the Confederate Navy, which was to become the ironclad ram CSS Palmetto State ($2,000-$3,000). Helen H Taft's memoirs, Recollections of Full Years, 1914, signed by her and her husband, President William Howard Taft, in a rare dual signing ($2,000-$3,000). Also an autographed note of love and affection from American patriot John Hancock to his wife in 1771 ($3,000-$5,000).
Lastly, to be featured is …more