Swann Galleries will hold their spring offering of Fine Books & Autographs on Thursday, June 17. The auction will feature a strong showing of autographs by prominent American political figures, as well as bright minds from both the performing and visual arts. Literature from the nineteenth and twentieth centuries is present alongside a selection of art, press and illustrated books.
In the nineteenth- and twentieth-century literature portion of the sale, James Joyce leads the offering with a signed deluxe limited issue of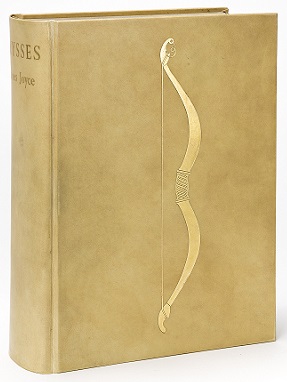 Ulysses, London, 1936 (est. $15,000-20,000), also by Joyce is a signed first edition, limited issue, of Finnegans Wake, London, 1939 (est. $6,000-9,000). Additional publications include a first edition of William Faulkner's The Sound and Fury, New York, 1929, available with the first state dust jacket (est. $5,000-7,500); a scarce first edition of Kahlil Gibran's The Prophet, New York, 1923 (est. $4,000-5,000); a first edition of John Steinbeck's The Grapes of Wrath, New York, 1939, with a signed card and a letter from Steinbeck's agents (est. $4,000-6,000); and a signed first edition of Margaret Mitchell's Gone With the Wind, New York, 1936, in the first issue dust jacket (est. $3,500-4,500). Poetry includes an author's presentation copy of Robert Frost's Collected Poems, New York, 1930, signed twice by Frost, with the entirety of Stopping by Woods on A Snowy Evening accomplished by him in holograph (est. $8,000-12,000); and a first edition of Pablo Neruda's Canto General, Mexico City, 1950, with pictorial endpapers designed by Diego Rivera and David Alfaro Siqueiros, signed by Neruda, Ribera and Siqueiros with an additional inscription by the poet (est. $2,500-3,500).
The autographs portion of the sale includes uncommonly inspiring items in nearly every major category of collecting. The Americana section includes an 1849 autograph letter signed by Abraham Lincoln to Whig activist George W. Rives (est. $10,000-15,000); and an 1823 ALS from Declaration signer Charles Carroll of Carrollton writing more than 20 years after the death of his friend, George Washington, that the General's "great and disinterested services will be revered by every good citizen of these States to the gates of time" (est. $2,000-3,000). Another renowned General who helped create a nation was Giuseppe Garibaldi, who wrote in 1867 encouraging President Andrew Johnson, the members of Congress, and all Americans, to "trample underfoot every kind of individual prejudice in order to maintain intact the unity of the great Republic, the most powerful symbol of liberty in the world" (est. $3,500-5,000).

Additional autograph highlights include …more