Swann Galleries' sale of Illustration Art on Tuesday, December 10 will feature an impressive selection of original works. Highlights include an array of theater set designs by some of the most recognizable names in the genre, classic illustrations from children's literature, as well as illustrations for The New Yorker.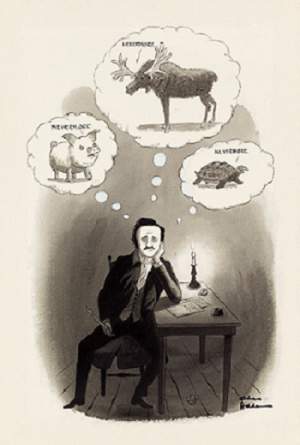 Leading the sale is Charles Addams's Nevermore for the October 29, 1973 issue of The New Yorker. The cartoon, picturing Edgar Allan Poe as he struggles to find the perfect voice for his famous narrative poem, is set to come across the block at $12,000 to $18,000. Addams's advertisement for Chivas Regal scotch whisky published in the February 29, 1964 issue of The New Yorker is estimated at $5,000 to $7,500.

Further selections from the sale's distinct assortment of New Yorker works include current contributors: a group of two cartoons by Sara Lautman published in the February 11 and July 1, 2019 issues and Emily Flake's Hang On—I'll Uber Us a School Bus, published in the May 23, 2016 issue, offered at $1,000 to $1,500, each. Offered alongside these works is Ilonka Karasz's Chop Suey cover illustration for the August 27, 1927 issue, at $4,000 to $6,000.
Familiar faces abound in an offering of original works from children's literature. Ernest H. Shepard's 1949 pen-and-ink drawing for the timeless Christmas story Bertie's Escapade by Kenneth Grahame is present at $10,000 to $15,000. A run of works from Lewis Carroll's Alice in Wonderland includes three works from D.R. Sexton's 1933 edition, most notably a flapper Alice with the hookah-smoking caterpillar ($3,000-4,000), as well as Harry Rountree's 1901 illustration featuring the queen ($6,000-9,000). H.A. Rey' watercolor and gouache work for Rafi et les 9 singes—the first book to introduce Curious George—depicts Cecily Giraffe smiling as monkeys ski down her long neck ($10,000-15,000). Also available is Ludwig Bemelmans, with sketch of Miss Clavel in a garden with Madeline and the Eiffel Tower in the background ($6,000-9,000).

Dr. Seuss's 1937 calendar watercolor illustration It's our first … don't you think it looks like George? for the Thomas D. Murphy Co.—the largest color project of Seuss's career at the time—is estimated at $10,000 to …more