Potter & Potter Auctions is pleased to announce its upcoming Fine Books and Manuscripts Sale to be held on Saturday, April 18th starting at 10am, CDT. Given the current public health situation, this sale will be streamed live from Potter & Potter's gallery and held on www.potterauctions.com. Bids can be placed on the company's website and phone and absentee bidding is available also. All lots are available for preview now on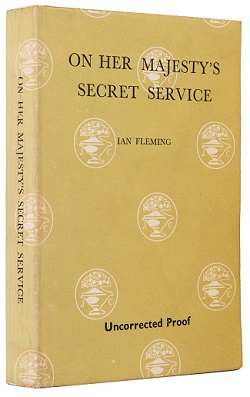 Potter & Potter's website.

The early spring sale includes a fine collection of books, articles, and materials on or by Ian Fleming, the English writer best known for his James Bond series of spy novels.

Lot #35, a first edition, first printing of Ian Fleming's 1963 Thrilling Cities, is estimated at $5,000-7,000. It was published in London by Jonathan Cape, and is inscribed and signed on the title page to Fleming's personal friend and American spy, David Bruce: "Dave/To keep your mind/off your work!/Ian".
Lot #448, a first edition, signed copy of Amelia Earhart's 1932 Fun of It, is estimated at $1,500-2,500. This fully provenanced example is uncommonly signed on the frontispiece page; in most cases, she signed her name on the front flyleaf. Accompanying the book are two copies of a handbill for an in-person appearance of Earhart and a stack of 1930s newspaper clippings reporting on her. Lot #286, George Herman Ruth's Babe Ruth's Own Book of Baseball from 1928 is estimated at $3,000-5,000. This book was limited to 1,000 signed copies of which this example is No. 434. It features the author's clean and bold signature on its limitation page.
Lot #392, a near fine example of Rubáiyát of Omar Khayyám, The Astronomer-Poet of Persia…with an accompaniment of drawings by Elihu Vedder, is estimated at $6,000-8,000. This first edition, published in 1884 in Boston by Houghton Mifflin and Company, was signed by the illustrator on its limitation page. Limited to 100 copies and sold out within …more