Swann Galleries' Thursday, November 14 sale of Rare & Important Travel Posters marks the house's twentieth annual sale in the category. A private collection of railway posters forms the cornerstone of the sale; also included are destination and resort advertisements, ocean liners, aviation and rarely seen designs.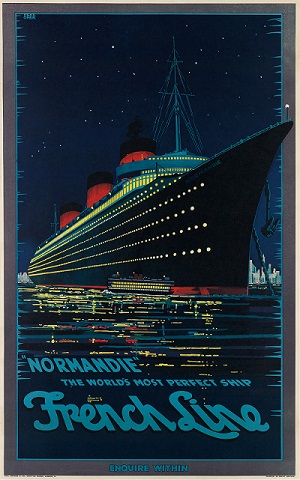 The extraordinary private collection of American railway posters—the best the house has offered—includes a visual history from the early years of the New York Central Lines to the Streamliner trains of the 1930s and 40s. Highlights include Leslie Ragan's Art Deco image of one of the last century's most famous American trains, The New 20th Century Limited, 1939, estimated at $8,000 to $12,000 and Ragan's first poster for the New York Central Lines, Chicago / New York Central Lines, 1929, at $5,000 to $7,500.

Other rail line designs of note include a run of sporting posters: Golf by the North Shore Line a circa 1923 gouache maquette by Willard Frederic Elmes ($8,000-12,000); Football / Notre Dame by South Shore Line, 1926, by Otto Brennemann ($7,000-10,000); and Polo / By the North Shore Line, 1923, by Oscar Rabe Hanson ($7,000-10,000). Also featured is Paul Proehl's Chicago for the Tourist / Illinois Central, 1925 ($5,000-7,500), and Jon O. Brubaker's California / America's Vacation Land / New York Central, 1925 ($10,000-15,000).

The sale is led by Hubert Herkomer's 1939 advertisement for the ocean liner Normandie. The rare—and likely last—poster to be created for the end of the ship's career is expected to bring $15,000 to $25,000. Additional ocean-liner posters of note include Montague Birrell Black's White Star Line / Olympic & Titanic, circa 1910, which shows the Olympic and Titanic passing at sea ($6,000-9,000), and J.F. Butler's Panama Pacific Line / New York California via Panama Canal and Havana, circa 1928 ($1,000-1,500).
Aviation posters include Boris Artzybasheff's Bermuda by Clipper / Pan American World Airways, 1947 ($4,000-6,000); Guy Arnoux's Air France / Amérique du Nord, 1946 ($3,000-4,000); and Weimer Pursell's American Airlines / To New York, 1956 ($1,500-2,000). A run of charming and cheeky Air India posters from the 1960s rounds out the offering. …more